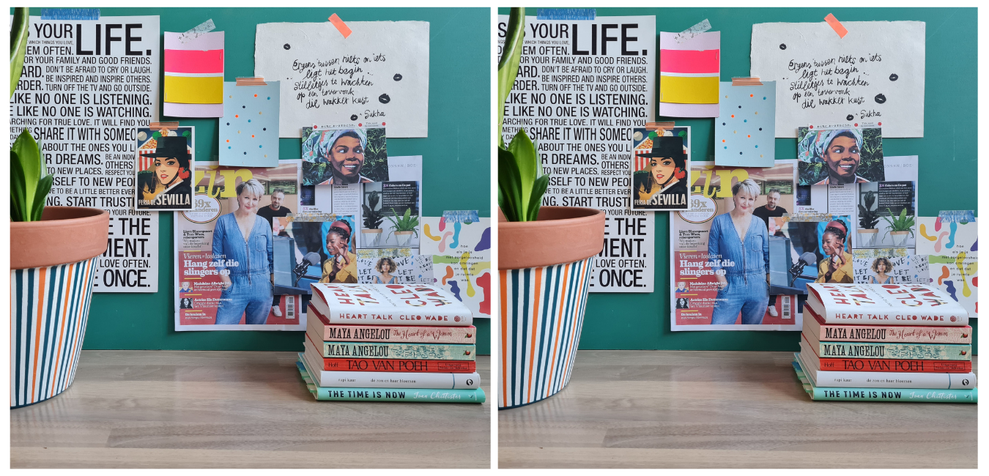 Leestijd: 4 minuten 
Dat ze een spraakbelemmering heeft, motiveerde haar nóg sterker om 'm te overwinnen; want de letter r kreeg ze maar niet goed over haar lippen. Met een flinke dosis doorzettingsvermogen en de rap uit het lied 'Aaron Burr, Sir' uit de musical Hamilton, zette ze zich in om deze volledig en op volle snelheid aan te leren, want als ze het voor elkaar wist te boksen om alle r-en in deze rap te bedwingen, dan zou ze zich op zijn minst ook meester kunnen maken om 'm te gebruiken in haar eigen werk...........
Slechts tweeëntwintig jaar oud, maar nu al Youth Poet Laureate van LA, West America, Harvard Graduate en de eerste National Youth Poet Laureate ever. Ze wist al langere tijd dat ze op een long list en op een short list stond om te speechen tijdens de inauguratie, maar kreeg de doorslag eind december.  Ze droeg voor  in de Library of Congress toen Jill Biden, ook lerares, net als haar moeder, haar aanwees als de jonge dichter die mocht voordragen. Naast vereerd voelde ze ook de stevige druk om goed te presteren op dit podium voor het oog van de wereld. De bestorming van het capitool gebruikte ze als katalysator en binnenvuur om haar gedicht in hoop aan te scherpen tot wat het uiteindelijk geworden is. 
En ze  stónd er ook, op een plek die haar toebehoorde, daar in het volle zonlicht. Haar gedicht klonk voor velen als een gebed dat was verhoord. Daarbij waren
het niet alleen haar woorden, maar ook haar pauzes, haar gebaren en haar mimiek; Amanda Gorman was de absolute verwezenlijking van haar gedicht, en wist
daarbij de hoop van velen te voorzien van brandstof; voor een betere en gelijkere Amerikaanse toekomst. Trefzeker in woorden gevat en recht uit het hart. Alsof ze de kers was op de taart van Joe Bidens' verkiezingswinst, na vier jaren van barre 'presidentiele' ellende. Er was weer lucht, er was weer licht en er gloorde weer hoop aan de horizon; goede hoop!
Naast jonge dichter en woordkunstenaar is Amanda Gorman vooral ook een schoolvoorbeeld,  voor iedere amerikaan. Als afstammeling van slaven en opgevoed door haar alleenstaande moeder laat ze zien dat je ondanks je achtergrond, en mèt gelijke en eerlijke kansen heel veel kunt bereiken. 
Maar ook een grote shout out naar Country Music Icon Garth Brooks voor zijn acapella versie van Amazing Grace tijdens deze inauguratie. Eerder bedankte hij nog voor de inauguratie van Trump. Een beste heldendaad als je je realiseert dat het grootste gedeelte van zijn country achterban toch echt (boze) Trump aanhangers zijn. Hij maakte zijn optreden  'niet politiek', maar deed simpelweg 'what was the right thing to do'. Met als risico om te worden blacklisted
in the country music scene. Zijn grootsheid en ongeevenaarde succes, niet alleen persoonlijk, maar ook professioneel maakte dat hij dit risico durfde te nemen. Als helende kracht en als symbool voor eenheid in toch echt de verenigde staten van amerika. Let the wise people rise! Time Magazine noemde zijn optreden niet voor niets een pleidooi voor normaliteit. En dat is het precies, maar dan in buitengewoon uitzonderlijke uitvoering. For there is always light, if only we are, brave enough to see it, if only we are brave enough to BE it.
Luister naar Amanda's voordracht via deze link, en luister naar Garths optreden via deze link. Fijne zondag!  
---------------------------------------------------------------------------------------------------------------------------------------------------------------------------------------------------------------------------------------------------------------
- the hill we climb -
(inaugural poem by national youth poet laureate Amanda Gorman)
'when day comes,
we ask ourselves,
where can we find light,
in this never ending shade?
the loss we carry.
a sea we must wade
we brave the belly of the beast
we've learned that,
quiet isn't always justice.
and yet the dawn is ours,
before we knew it.
somehow we do it.
somehow we weathered and witnessed,
a nation that isn't broken,
but simply unfinished.
we, the successors of a country,
and a time where,
a skinny black girl,
descended from slaves,
and raised by a single mother,
can dream,
of becoming president,
only to find herself reciting for one.
and, yes, we are far from polished,
far from pristine,
but that doesn't mean,
we are striving to form,
a union that is perfect,
we are striving to forge,
our union with purpose
to compose a country,
commited to all cultures, colors,characters,
and conditions of man.
and so we lift our gaze, 
not what stands between us,
but what stands before us.
we close the divide because we know,
to put our future first,
we must put our differences aside.
we lay down our arms,
so we can reach out out arms,
to one another,
we seek harm to none,
and harmony for all,
let the globe, if nothing else. 
say this is true.
that even as we grieved, we grew
that even as we hurt, we hoped.
that even as we tired, we tried.
that we'll forever be tied together, victorious.
not because we will never again know defeat,
but because we will never again sow division.
scripture tells us,
to envision,
that everyone shall sit,
under their own vine and fig tree,
and no one shall make them afraid.
if we're to live up to our own time,
then victory won't lie in the blade,
but in all the bridges we've made.
that is the promise to glade,
the hill we climb,
if only we dare.
It's because being American is more,
than a pride we inherit.
It's the past we step into,
and how we repair it.
we've seen a force,
that would,
shatter a nation,
rather then share it.
would destroy our country,
if it meant,
delaying democracy.
and this effort,
very nearly succeeded.
but while democracy can be,
periodically delayed,
it can never be ,
permanently defeated.
in this truth,
in this faith we trust,
for while we have our eyes on us.
this is the era of just redemption.
we feared at its inception.
we did not feel prepared to be,
the heirs of such a terrifying hour.
but within we found the power,
to author a new chapter,
to offer hope and laughter to ourselves.
So, while once we asked,
how could we possibly prevail over catastrophe,
now we assert, 
how could catastrophe possibly prevail over us?
we will not march back to what was,
but move forward to what shall be:
a country that is bruised but whole,
benevolent but bold,
fierce and free.
We will not be turned around or interrupted,
by intimidation,
because we know our inaction and inertia,
will be the inheritance of the next generation,
become the future.
our blunders become their burdens,
but one thing is certain,
if we merge mercy with might,
and might with right,
then love becomes our legacy
and change,
our childrens birthright.
so let us leave behind a country,
better,
than the one we left.
every breath from my bronze-pounded chest,
we will raise this wounded world into a wondrous one.
we will rise from the golden hills of the west.
we will rise from the windswept,
northeast, where our forefathers first realized revolution.
we will rise from the lake-rimmed cities of the midwestern states
we will rise from the sun-baked south.
we will rebuild, reconcile, and recover.
and every known nook of our nation,
and every corner called our country,
our people diverse and beautiful,
will emerge, battered and beautiful.
when day comes, we step out of,
the shade of flame and unafraid.
the new dawn balloons as we free it,
for their is always light, if only we are,
brave enough to see it,
if only we are brave enough to BE it.